WARNING!!
This Wiki may contain SLIGHT NUDITY, EXPLICIT CONTENT and SPOILERS from the series!
Read at your own risk, but BEWARE of your contributions for the respect of this wiki and the FANDOM community.

Ecchi is an often used slang term in the Japanese language for Erotic fantasy and sexual innuendoes. As an adjective it is used with the meaning of "dirty", "naughty", "frivolous"; as a verb (ecchi suru), with the meaning to do something dirty, naughty, frivolous or to sleep together; or as a noun, to describe someone that is seen as ecchi. It is a synonym for ero (from Eros) and does not have such a harsh meaning as hentai.
The word is not only common in Japan, it is also used worldwide inside the fandom of Japanese media to describe sexual themes or undertones. While the word Ecchi could mean anything from mild to insulting in Japanese language, it is used in Western culture to divide between pornography (hentai) and playful usage of sexualized imagery (ecchi). Works considered as ecchi DO NOT show any sexual intercourse or primary sexual characteristics. Instead, it is up to the imagination of the viewer. Inside such media, it often goes along with fan service in a humorous way. These kinds of sexual themes or undertones can usually be found in comedic Shōnen Seinen manga and Harem anime. Note: fan service and ecchi are often considered the same in wording
Activity
Featured article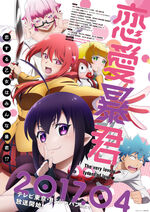 The Very Lovely Tyrant of Love (恋愛暴君, Renai Boukun, lit. "Love Tyrant"). A Kiss Note is a powerful notebook that makes anyone who has their name written together will instantly fall in love if they kiss each other regardless of any circumstances. Continue
Other wikis